My travels have varied from weekend family breaks in France to long-distance almost expeditionary travel.  Most has been enriching, enjoyable and horizon-broadening, with the occasional mini-disaster.  I have huge gaps: I really never have covered Asia much to my chagrin… something's got to go I suppose.  Still, that leaves new virgin territory to explore.
So – my favourite locations, for all sorts of different sorts of travels.
Guatemala +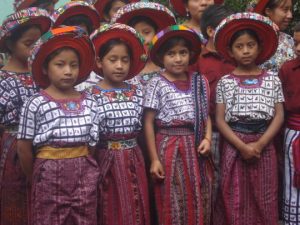 If the quixotic Gods of Travel said "you just have one location, just one" I'd take Guatemala (and then try to stretch a point and see if I could talk Belize and the Yucatan Peninsula of Mexico into a package deal! You never know unless you try.)

I've been quite a few times over the years as well as staying in Antigua Guatemala (of course) for a few months while trying to learn Spanish years ago.
Guatemala has everything:
Pacific and Caribbean coasts
Extraordinary Mayan history with the ruins of

Tikal in the lowland jungles of the Petén
Quiriguá near Izabal on the Caribbean side
Iximche between Lake Atitlán and Chimaltenango

The still-remote ruins of El Mirador buried in the mosquito depths of the jungle up on the Mexican border and only reached by proper hard trekking at the price of mosquito-ravaged limbs
Reflections of perfect cone volcanoes in the Western highlands
Mirror-black lakes Atitlán and Amatitlán surrounded by excruciatingly beautiful villages
40% of the youthful ~15m population are indigenous Mayan peoples from a bewildering patchwork of K'iche' Q'eqchi, Kaqchikel and Mam reinforcing cultural traditions from pre-Colonial times if not directly to the classic Mayan civilisation of 200-900AD
Hitch and microbus trek up from Santa Cruz del Quiché through Sacapulas to Cobán and on up through the vast Peten emptiness through Sayaxche on up to Flores
Check out the international breakfast meeting-place at Doña Luisa's in Antigua Guatemala.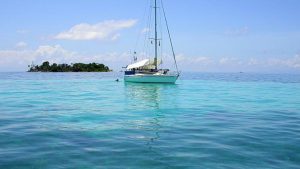 If you can convince the Travel Gods to sanction the Belize side-dish then head on over to the Caribbean coast (when I first drove across the Guate-Belize border the two countries were still technically at war, although that didn't seem to impede progress across the border too seriously.) A boat chartered from Belize City will allow a post-jungle wind-down with some of the most extraordinary snorkelling and scuba diving in the world across the Belize Barrier Reef with some of the 500-or-so less well-known cayes on up North to Ambergris Caye almost on the border with Mexico.
If those Travel Gods are really indulgent, while you're there add a side-dish of the Yucatán peninsula: Cancún and Cozumel by all means, but also the pyramids of Chichén Itzá, the sculptures of Ek Balam and Uxmal, not forgetting the rich colonial history of Mérida.
Very difficult to beat.
Maldives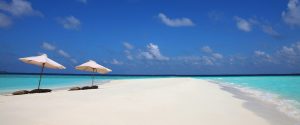 With 100 or so of the 1,200 coral islands of the Maldives now developed as tourist resorts there is an ever-changing pecking order amongst the luxury island resorts competing for the latest spa treatment, room design and relaxation regime.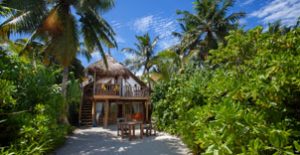 Soneva's low-impact, high luxury profile  ticked all our boxes and with three direct 10-hour flights from London to Malé per week that leave at 6pm and arrive at 10am the next morning (local time is 4 hours ahead of the UK) and a fun 30-minute seaplane flight taking you directly over to the atoll it's really an easier trip than a flit over to Majorca.
Site of probably the most relaxing 4-5 weeks of our married life, children in tow too.
Botswana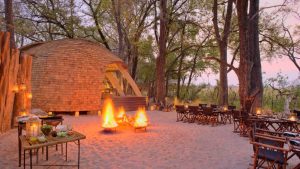 Botswana? Yes, absolutely: Botswana! BA, Virgin or SAA fly overnight from London to Johannesburg and then a 2-hour connecting flight the next morning up from Jo'burg to Maun gets you in to the heart of the Okavanga.  Then, the world's your oyster with camps like Chitabe, Sandibe, or Abu, take your pick to follow game, riverine or birding life and standards of traditional luxury from "jolly comfy" to full-blown "luxe".
Head over to Chobe for the mainline game safari experience. Enjoy the luxury of the Savute Elephant Camp, and take a couple of days on the Zambezi Queen and go on up to the Victoria Falls.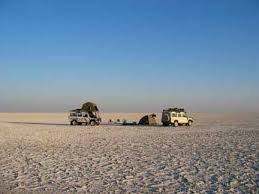 But don't stop there – head down to the eery moonlike aridity of the Makgadikgadi and enjoy the meerkat of Jack's Camp or be astounded by Baines' Baobabs from Nxai Pan Camp.
There's no need to try to do it all at once, leaving a few stones unturned is all the reason you should need to return – a few times. It gets easier every time, but never less exciting. Is that a hippo? Yes, it very probably is. And some of the happiest, most welcoming, generous-hearted people in the world too. Why not tarry awhile in SA en route too?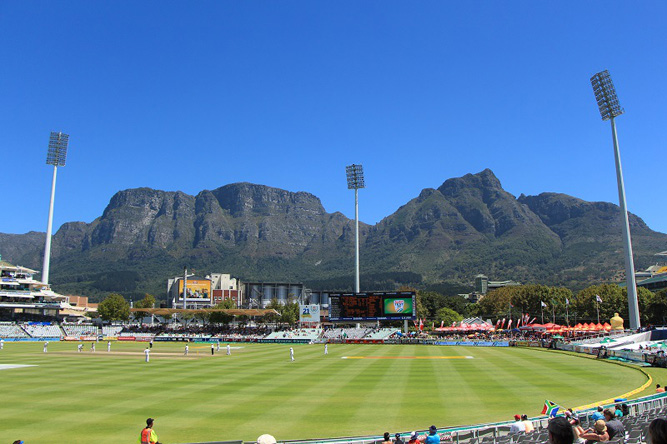 Easy to combine with a stop in Cape Town to take in a couple of days of Test cricket to make life perfect (the Proteas take on Australia in their fifth ODI at Newlands in October 2016, or Sri Lanka are there for a Test in January 2017…)