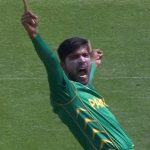 Well, if that isn't the underdog biting back I don't know what is.  Mohammed Amir! Wow…
I turned TMS off to get a late bite of lunch thinking that India were in an unassailable position….what a game cricket is.
Edited at 5:00pm to say: don't you just love it when the underdogs win like that?  What an amazing performance from Pakistan.  Quite, quite brilliant.