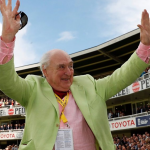 After the unexpected thrills of the West Indies series there was always a chance of an upset at Lord's, but Jimmy Anderson delivered the goods (again) with a career best of 7-42 for a fifth entry on the Lord's honours board and a nine innings victory for England to deliver a 2-1 series win.  Thankfully. Stoneman seemed in much more convincing form to make the selectors' task a little easier.
The big moment of the day was, however, the departure of Blowers who I thought the Beeb could have allowed a double-session to take him through to England's victory, but who made up for this by a unique and brilliant lap of honour.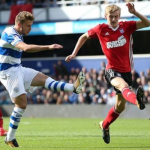 Then news drifted in of a home win for QPR against Ipswich with two goals from Luke Freeman and James Mackie before half-time and what sounds like plenty of other chances before Ipswich pulled one back in the 89th minute to make it 2-1.  I shall have to return to Loftus Road again!  Phew. 8th in the table after 6 games… not awful.